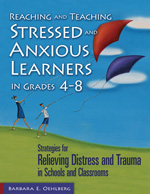 It is a widely-accepted belief that public schooling is the doorway through which children must pass to become prepared for a successful future. Children must develop intellectually, emotionally, socially and morally within a framework of increasingly diverse backgrounds, traditions and values. They must acquire the knowledge and skills necessary for them to be productive citizens in every aspect of our democratic society. And they are expected to achieve at higher levels of mastery each year, even though their schools' financial resources are shrinking, tax levies are failing, facilities and textbooks are being outdated, and increased academic requirements are edging out life skills and the arts courses where students learn to believe in themselves, care for others and pursue dreams.
As the demand for educational accountability increases, it would be wonderful if teachers could direct their undivided attention to fully understanding the learning styles of each student in their classrooms and implement all the varied techniques. However, for children to learn, they must first be ready to do so. Schools, then, must address the many societal problems that impact such a large number of children today. Intervention courses and peer tutoring are needed to implement test-taking skills, special programs help keep students in school, and a multitude of support groups address issues from substance abuse to conflict management to the prevention of suicide, as well as dealing with its aftermath. Breakfast programs feed the hungry children so they can be ready to learn. A collaboration of agencies provide clothing, parenting courses, welfare, medical and mental health services to those who need them. And the prevalence of child care facilities within many high school and career center buildings attests to the level of commitment educational institutions possess – above and beyond the actual act of educating – to keep their students in school to the point of graduation.

While administrators and educators acknowledge and deal with the myriad social problems that interfere with learning, many are not addressing a very fundamental reason why children may not be succeeding in the classroom: a lack of personal safety. In her presentations and her book, Reaching and Teaching Stressed and Anxious Learners in Grades 4-8: Strategies for Relieving Distress and Trauma in Schools and Classrooms, Barbara E. Oehlberg expands on research findings to reveal some startling facts:
Experiencing loss, trauma, intense fear, or terror erodes children's feelings of safety and creates a physiologic effect on their brain function, which can impair cognitive processing and impede learning.
Students who are so affected undergo a "cognitive lockout" and act out or withdraw from social, emotional, and intellectual challenges, not by choice, but because of a physiologic and emotional reaction to some feeling of fear that became integrated into their development.
Brain research indicates that a touch, smell, noise or sight in the classroom or playground can trigger the amygdala, the structure of the brain directing negative reactions to fear, arousal and anger, to disrupt rational thought by causing a surge of adrenaline, invoking the fight-or-flight reaction.
Continued release of adrenaline, and the companion hormone cortisol, is known to cause loss of memory. Children who can't remember, can't learn.
Students who act out often have no idea why or what triggered their misbehavior; nevertheless, they are generally punished – for physiologic reactions, and not due to a wanton disregard for the rules of conduct.
Reaching and Teaching Stressed and Anxious Learners in Grades 4-8 presents countless ideas and activities to help students learn to identify and control their stressors. It offers a plea to educators to recognize the implications of early loss and trauma on the brain development of so many children today, to create a classroom in which all students are accepted and feel safe, and to develop a relationship of trust with their students, thereby transforming feelings of anxiety and hopelessness into those of resiliency and hope.